Swiss Special Member Mail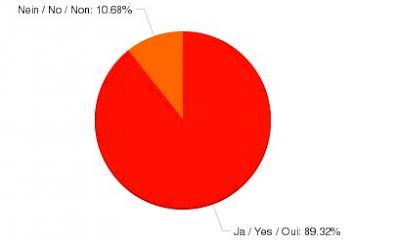 An Articulate Yes to the «Crisis CLA»

Dear Colleagues
At SEV-GATA, the members decide. With 89,3% yes and 10,7% no, you have accepted the crisis CLA (temporary cost reduction measures with an extension of the CLA until at least the end of 2026).
The turnout of 47,2% is not exactly exhilarating, but perhaps it also testifies to the ongoing uncertainty – in general, but particularly in aviation, and also to the trust you place in us: We have been committed to averting harm and to achieving security for you.
With this decision, you followed the recommendation of the SEV-GATA committee. Subsequently, ground staff is making a substantial contribution to getting through this crisis.
We continue to focus on extending the short-time work option by six months.
This would have many positive effects:
Securing liquidity for Swiss,
Option for careful analysis and observation of further developments, especially with regard to the effect of vaccinations and market recovery,
no need for short-term structural adjustments.
The chances of a further extension of the short-time work allowance are good.
In discussions with the new CEO, we made it clear that the federal aid package and the compensation for short-time work represent an obligation to refrain from any layoffs until further notice.
Despite the crisis, you kept a cool head with your decision and thus made a responsible, solidary contribution to overcoming the crisis. Now politicians and Swiss management have to keep a cool head as well and do everything in their power to ensure that Switzerland can continue to operate successfully after Covid.
SEV-GATA, the union on the pulse of the members, will not let you down, not even in the crisis!
Recruit new members now, receive bonuses, enable participation and help strengthen the trade union movement.

Warmest regards,
Philipp Hadorn, President
SEV-GATA, your union in the aviation idustry!
Philipp Hadorn, President GATA: SEV-Aviation
Enable JavaScript to view protected content. / www.sev-gata.ch / www.sev-online.ch